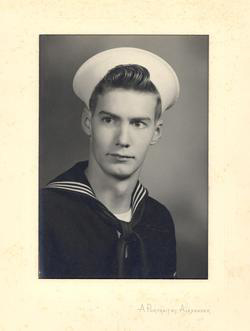 Robert Shaul, age 77, of Brookfield, died Monday, December 14, 2015, at his home.
A funeral service will be Friday, December 18, 2015, at 2:00 p.m. at Wright-Baker-Hill Funeral Home in Brookfield with Pastor Mike White officiating. Burial will be in Park Lawn Cemetery in Brookfield. Visitation will begin Friday at 9:00 a.m. and the family will receive friends from 12:00 noon until service time at the funeral home.
Memorials to Trinity United Methodist Church or American Lung Association may be left at or mailed to Wright-Baker-Hill Funeral Home, P.O. Box 496, Brookfield, MO 64628.
Robert Lee, son of William Ivan and Edna Marie (Swank) Shaul, was born December 22, 1937 in Utica. On October 17, 1959, he married Mary Ellen Goosey.
He worked for the Burlington Northern Santa Fe Railroad as a conductor. He was a US Navy Veteran and a member of the Trinity United Methodist Church in Brookfield.
Survivors include his wife, Mary of the home; one son, William Steven Shaul and wife, Debra of Platte City; one daughter, Sarah Louise Gladbach and husband, Tim of Mendon; four grandchildren, Scott Shaul, Ashley Gladbach, Tony Gladbach and Courtney Shaul; eight great-grandchildren; one brother, Gerald Shaul and wife, Joyce of Cameron; a second son, Mike Mudd of Brookfield; and several nieces, nephews and other relatives.
His parents; two brothers, Donnie Shaul and Marvin Dale Shaul; and one nephew, Dennis Shaul preceded him in death.